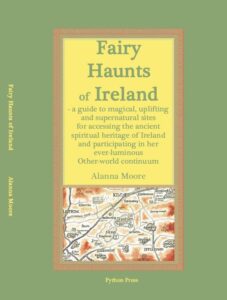 A guide to magical, uplifting and supernatural sites, where one can access the ancient spiritual heritage of Ireland and participate in her ever-luminous Other-world continuum.
by Alanna Moore November 2023.
What is the nature of the Other-dimensional world of fairyland? Since ancient times, seers have described the parallel world of nature spirits and deities. Peeling away the biased accounts of medieval monks, one finds archaic fragments of mythos of the Other, also in children's stories. Best of all, we can encounter their presences at many standout locations around the magical island of Ireland.
Alanna Moore's tenth and latest book, this is a guide to magical, uplifting and supernatural sites around Ireland and it's richly illustrated in full colour. Included are some of the author's fairy experiences, such as at the source of the Shannon River; seven years of observing and interacting with a group of fairy queens in Leitrim; journeying with Cow goddess Boinn and dancing with the Daghda. Alanna Moore, a professional geomancer, divining the subtle energies and spirits of place, has 40 years experience of the Other.
Fairy Haunts of Ireland
ISBN 9780645285437
125 A5 pages, paperback, full colour
Published by Python Press 20/11/2023
Fairy Haunts of Ireland
Contents –
Introduction:
How the Australian author, a professional geomancer practising for over 40 years, developed understanding and connection to spirits of place in Ireland via Aboriginal Dreaming.
Chapter 1. Who, what and where are the fairies?
Fairy stories. What species of sí can be found? Nature spirits and human spirits. The Banshee. Fairy Passes. Fairy Forts. Visiting Holy Fairy Places. Appreciating Other-worldly sites.
Chapter 2. Irish goddesses and gods.
Brigid. From Neolithic and Indian to Iron Age deities. The Cailleach and the Crane cult. Gods of light and darkness. Crom Dubh.
Chapter 3. Finding the Fairies.
Standout locations to visit fairy places in Co.s Sligo. Leitrim. Tipperary.  Wicklow. Seven Years in a Fairyfield. Finding Fairy Passes in Co.s Leitrim/Cavan/Fermanagh.
Chapter 4. Finding Water Spirits.
Irish water spirits. Mannanán mac Lir. Holy rivers. Meeting a river goddess. Standout locations to visit across Ireland in Northern Ireland, in Co.s Carlow & Wexford. Kildare. Roscommon. Cavan. Sligo. Donegal. Fermanagh. Monaghan. Cork.
Chapter 5. Finding Sun Goddesses.
Standout locations to visit them in Co.s Limerick. Kerry. Cork. Tipperary. Tyrone. Armagh. Westmeath. Galway. Roscommon. Longford. Offaly.
Chapter 6. Finding Mountain Gods and Heroes of the Divine Masculine
Standout locations to visit them in Co.s Limerick. Fermanagh. Kildare. Mayo. Longford. Clare. Cork. Kerry. Antrim. Westmeath. Sligo. Dancing with the Daghda.
Chapter 7. Finding the Holy Cow.
Sacred cow places across Co.s Donegal. Meath. Leitrim. Sligo. Longford. Clare. Galway.
Chapter 8. Finding the Cailleach
The divine hag goddess in Co. Meath. Journey to the Underworld. In Longford. Armagh. Sligo. Galway. Mayo. Cork. Donegal. Roscommon. Derry. Clare. Kerry.