Sensitive Permaculture – cultivating the way of the sacred Earth
Alanna Moore, 2009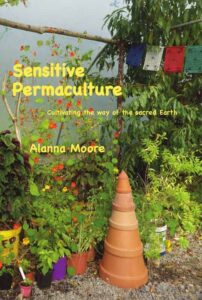 136 page A5 paperback
ISBN – 978-0-9757782-2-7.
Python Press price – $AUD28
Permaculture, the ethical design of sustainable culture, is mostly associated with eco-smart food gardening. For 25 years author Alanna Moore has been a keen permaculture practitioner, while also working as a geomancer, addressing the subtle energies of place. A geomantic permaculture design for sustainable food production and living, she discovered, helps to alleviate environmental problems on many levels.
In this book she describes how to undertake a sensitive analysis of land capability in order to co-creatively and joyfully develop a truly harmonious permaculture plan. Eliciting nature's help in the garden and co-operating with the resident fairies can foster great feng shui and the lush growth of vegetables, she enthuses, while it also nourishes our own inner, spiritual being.
Reviewed in

Nexus magazine

, Feb – March 2012
Self-described animist and geomancer Alanna Moore covers much more than permaculture alone in her seventh book. While she has great advice on the ethical design of sustainable culture, she also shares an energetic, loving approach to sustainable land planning, acknowledging the nature spirits that provide dynamic force in the landscape. Moore divides her time between Australia and Ireland, and so has wisdom to impart from the indigenous traditions of both lands.
 Informing her approach is the idea of sacred custodianship of country, which puts a spiritual perspective on such things as assessing land capability, selecting a home site and designing a living home. Moore is as comfortable with devas and fairies as she is with dealing with waste and pollution, pests and weeds. Read about harmonizing your space in line with natural energies, co-operating with the land and its creatures, building sensitive earthworks and creating a permaculture paradise on a budget.
Moore explores the Green Man concept and shows how we can attune to the spirit of our own household as well as save seeds for a sustainable eco-future. Her book is an adventure in magical and practical Earth awareness.