Plant Spirit Gardener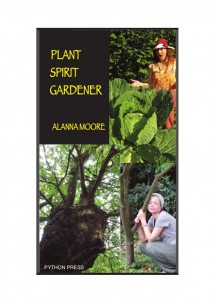 by Alanna Moore,
published 1st November 2016 by Python Press
ISBN 978-0-9757782-9-6
Python Press price – $AUD33
In her latest book on 'divine gardening', there is plenty of down-to-earth esoteric wisdom from Alanna Moore, an Australian-Irish professional geomancer with over 30 years experience. Everything a sensitive gardener needs to know to profoundly connect with Mother Nature is here, from the ancient art of dowsing (also called divining) to its application to gardening, improving the feng shui and co-creating with the devas – the fairy kingdom. With 206 pages, it is richly illustrated with 106 all colour photographs, there are also eleven invaluable dowsing charts and nine diagrams.
As well as giving the background of ancient folklore, there are scientific insights and descriptions from modern day clairvoyants to illuminate the spiritual realities of life and landscape. You can even use this book as a practical divining tool for learning to dowse, experience the other dimensional worlds and energetically enhance the environment. By following the suggested exercises and applying dowsing to the summaries, charts and lists provided for guiding your way, honing the intuitive faculties can be easy.
With this cutting-edge book, you can self-discover and practise the fascinating art of gardening with the devas. Self-empowered, you can become a backyard shaman. And you too can grow great big cabbages!