Stone Age Farming
– Tapping nature's subtle energies for your farm or garden
by Alanna Moore
2nd Edition published in Australia by Python Press
September 2013
210 page paperback. ISBN: 9780975778234
Python Press price: $AUD33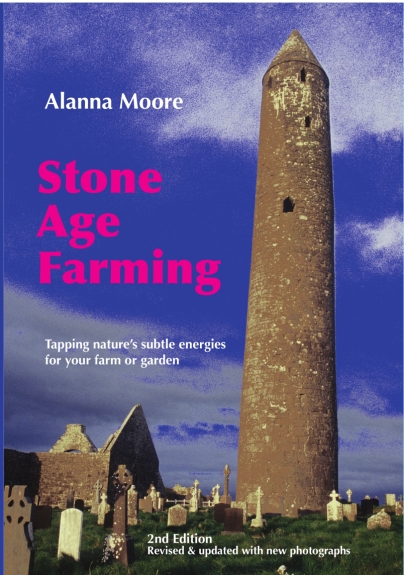 Earth spirited and eco-friendly, Alanna Moore's unique guide to esoteric farming and gardening practices features the art of dowsing and its application to subtle energies, such as paramagnetism, that can be harnessed for enhanced plant growth and animal vitality. The author draws on ancient Irish wisdom as well as modern scientific understandings of the ability of magnetism to stimulate life. Her work with Irish Round Tower inspired paramagnetic antennae (the 'Towers of Power') over the last two decades has produced
some impressive results and these are featured in this revised and updated with new photographs second edition.
PRAISE FOR THE 1st EDITION:
"Every so often, a book comes along that will change your perception of the world. Stone Age Farming is such a book." Conscious Living magazine
"Clear, lucid and practical" Tom Graves, dowser and author
"Simply fabulous!" Maurice Finkel, Health and Healing magazine
"Tremendous book…an inspiring read." Pauline Roberts, NSW Dowsing Society
"Quite fantastic." Roberta Britt, Canadian Quester Journal
"A journey into the world of esoteric agriculture, connecting ancient wisdom and environmental practices with the latest knowledge in magnetism and agricultural science. Author Alanna Moore specializes in geomancy and dowsing as applied to eco-agriculture, and she is passionate about permaculture and biodynamics…
"Moore takes an holistic, practical approach to farm and ecosystem management – an approach that identifies and harmonises with subtle energies, utilizes eco-sound methods and applies ingenious technologies such as energy-conducting coils for improving soil life and plant growth. Her call for 'the eco-farming imperative' is one that we must heed if we are to have a
sustainable future." Nexus magazine, June – July 2001.
What reviewers said of the UK/USA 2nd edition:
"Ten years after the release of Stone Age Farming (see review in Nexus 8/04), dowser, geomancer and permaculture farmer Alanna Moore has published an updated, revised edition of her guide to esoteric farming and gardening practices. This edition incorporates recent findings in achieving environmental harmony through permaculture design, and long-term results in using
paramagnetic antennae to improve soil health and increase crop yields. These antennae are inspired by the Irish Round Towers, which visionary Dr Phil Callahan described as 'silicon rich semi-conductors of cosmic energies' because of the paramagnetic material they utilise. Moore has practical advice on making the most of a Power Tower and on troubleshooting potential problems with location, materials, construction and environmental disturbances.
Moore's book instructs on such topics as using rock dust to save soil, restoring natural resonance with Earth acupuncture, incorporating dowsing and radionics into gardening, applying dynamic growing principles using modern biodynamics and Earthspirited permaculture, and farming in the city.
It's big on ancient wisdom and modern, ecologically sustainable farming practices."
Nexus magazine, February – March 2012
"All you wanted to know about using natural principles for growing healthy plants and crops can be found in this revised edition of Alanna Moore's well respected book. The title refers to the origins of many of the principles that spring from an understanding of the energies of Irish Round Towers. Alanna has followed the theories of Dr. Phil Callaghan and helped many farmers especially in Australia to produce healthy crops using Power Towers and dowsing to enhance the energy of areas lacking in soil nutrients or rainfall.
While the principles of dowsing and other more intuitive methods are explained there is still plenty of good science and it is well referenced… The dangers of modern chemical agriculture are vividly portrayed.
"When you read this you are left wondering why every farmer is not spreading basalt on his land instead of expensive and soil-exhausting fertilizers. But is not just a book for farmers as seen from the subtitle. Anyone who wants to grow their own food should have this book". Kieran Comerford, Irish Society of Diviners.
"…It has me quite excited! ….Alanna has written a book that gives all of us, whether we tend a small garden, a wild space, or a large farm, a way to connect with and enhance our space. She gives very detailed instructions on how to revitalise even the most depleted ground… Throughout the book she describes every way she has heard of or been part of to bring our land into balance, and to enhance both our growing in the fields and even our living around these spaces. She includes details of cautions, and also includes a thorough listing of references and bibliography to allow us to take any particular route as far as we want." Barbara Botham, Canadian Society of Dowsers.
Rock gardening takes on a whole new meaning in this book, which explores the world of subtle energies, via dowsing (divining), and explains how they may be harnessed for improved plant growth. There are rock solid tips for producing healthy, luscious and pest resistant plant foods. The enigma of millennia old Irish Round Towers (one is featured on the cover) is discussed, as well as the dynamics of modern 'Power Towers' (smaller versions) inspired by them and used to enhance plant growth.
From dowsing and agricultural radionics, to ancient Irish wisdom and modern scientific understandings on the amazing ability of magnetism to stimulate biology, this book collects together a breathtaking spectrum of esoteric yet practical advice for the new age farmer and gardener. It is a "…clear, lucid and above all, practical synthesis of the old and new." (Tom Graves, author of Needles of Stone, Diviners Handbook etc.)